Travel to Prague
Thanks to its location in the heart of Europe, Prague is easily accessible from all the major European airports.
The Václav Havel Airport Prague is one of the busiest in Central Europe. It offers visitors of Prague a direct connection to around 130 destinations in Europe, Asia, Africa and North America.
For more information please visit Václav Havel Airport Prague.
Public transportation
Prague has one of the best public transportation systems in Europe. The subway, trams and buses are used by two-thirds of Prague's population and cover the majority of the city and outskirts. The metro especially makes getting around town a breeze since it enables you to cover long distances in a matter of minutes. If you can't continue to your destination on foot, you'll be able to catch a tram or bus from near the subway station.
The Prague public transport mobile app can be download at www.pid.cz/en/mobile-app.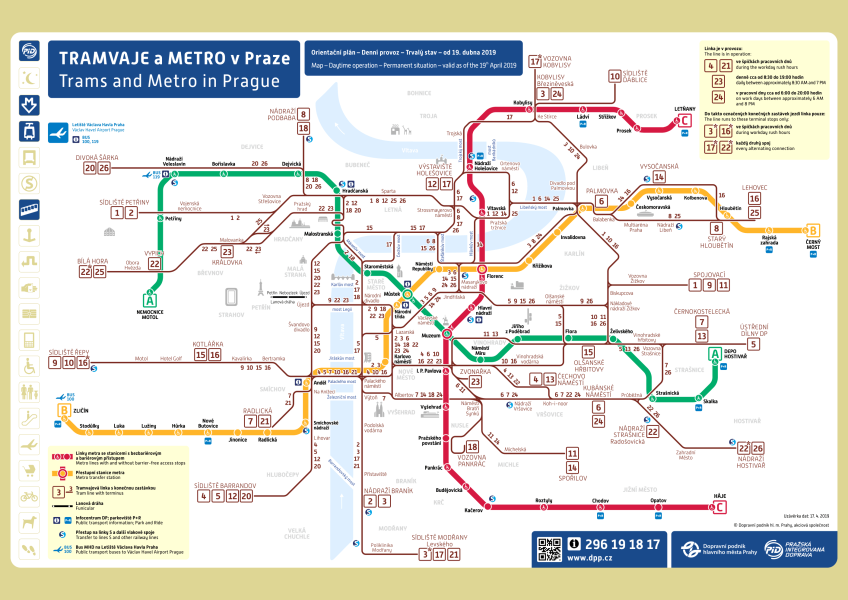 How to get from Prague airport to the conference venue by public transport
Take municipal bus no. 119 to Nádraží Veleslavín. Once there, take Line A of the Metro to the Staroměstská station (5 stops) and then go 6 minutes in direction to Charles Bridge (see section Conference Venue) or take tram (2, 17, 18) and go one stop to Karlovy Lázně.
Tickets can be purchased in the following ways:
In information centers and yellow vending machines at metro stations
In every tram (only by contactless credit/debit card) and bus (only from driver, it is slightly more expensive)
In newspapers shops
In the new mobile application PID Lítačka
We recommend that you find the public transport stop near to your planned accommodation. You can also find other transport links here.
By taxi
Taxi is much more expensive than public transport and it is only a little bit faster. It is reasonable to use taxis only for night arrivals/departures, when bus line 119 does not operate.
Only official airport taxis are allowed to operate at the airport. You can find taxis in front of the arrival halls of both terminals. The fare from the airport to the congress venue/offered hotels could be expected to be around 650 CZK (a higher fare is possible depending on the current traffic situation).